Carrying 'm home
In grannies cupboard, lies an old pen with mountainview and a fluid, in which a little ship goes up and down if you hold the pen upside down. The pen never really worked properly and the fluid has leaked away. Nevertheless, it was a souvenir and we keep it. They have a special place in our house, minds and memories. They transfer meanings, but only through its owner.
You could say, the souvenir was already purchased when we were still at home. The souvenir relates to our bodies, our homes, the construction of our sense of self and place.
Souvenirs transfer meaning and culture, by means of their material qualities. A wooden carving, made from a regional kind of wood, gives meaning through the work involved making it, the details made by the craftsman, the time it took to make it, the place where you bought the thing, the context wherein you bought it, its size, its weight, its grainy structure. They are all coupled to its meaning, at the very moment it changed hands.
The relationship between an object and its owner, is almost a magical one, according to many anthropologists and scholars. The object is imbrued with meaning, it has the power to 'communicate' and it tangibly occupies a space, whilst symbolising another symbolically-  temporal and geographical.
Mass production
Even mass-produced plastic rubbish, implicitely carries these qualities, although there is a significant loss in containing and transferring meaning, due to lack of forementioned qualities.
The souvenir has meaningful qualities and traits, because of its connection to the owner. Without a narrative, the souvenir is worthless. In mass production there has been given no meaning to the product by means of material qualities. On the contrary, souvenirs bought in mass tourism, exemplifies the very thing people want to escape from: work. (Benson)
Even the simplest mass produced plastic souvenirs, can carry meaning. And they do, ofcourse. However, the constructed narrative of its owner survives this process of exchange, minus many many meaningful material qualities. The remaining narrative, makes the purchased souvenir a ' mediating object.'  Something that is amplified by its later place within the house and household, within objects that make you you, but as an outsider's experience and perception of the experience of a site. (Benson)
Home and the souvenir
Whilst travelling, the souvenir you're going to buy, already has a connection to you and your home. There's a bond between your body, the 'self' and the construction of identity, primarily because your home is the main place where people create their reality and sense of self, in everyday life. Within this personal museum, you move in the presence of familiar objects ad images- constructing, annotating and forming your personality, your ways of meaning making and transference and ways of telling both yourself and the world, what you find important and what not. Souvenirs usually embody the same characteristics. To name a simple example in the context of materiality: a wooden carving has to fit the salon table.
We inscribe the perception of home on particular places and locations, without necessarily having to be there. Potentially we have the capacity to create our own notion of home. Within post-modern society the sense of place and perceptions of home is both highly standardised and commodified, aswell as constructed by means of tourism. Even the sense of authenticity, embodied by artefacts, souvenirs and totems, is often a constructed one. Some thrive on the sense of nostalgia, not all of them, as the sense of nostalgia is experienced by the tourist, not particularly the locale itself.
Example from forum on the relationship souvenir/ownership
My parents' souvenir spoons; let me show you them. January 23, 2010 I have inherited a collection of souvenir spoons. Can you suggest funky or creative ways to display these? They came with the standard souvenir spoon display board, which I don't care for. For what it is worth, I have not visited all of the places that these spoons were obtained, though I respect the fact that my parents chose to go to these places and obviously had nice memories of these trips. posted by Morrigan
Commercialised, mass produced souvenirs, can represent a manufactured notion of nostalgia, building on the desire of constructing a shared narrative. This does still not mean, the bought souvenirs are without meaning! Physical contact with objects collected during travels (like souvenirs), is more important for travellers telling stories, than visual representations (Bationo). Other research shows that people do prefer to recollect memories by using souvenirs rather than photo's. However among elderly people using objects for reminiscing, 42% of the cases preferred the photograph for "stirring recollections" (Sherman).
"Souvenir photos of Versailles" project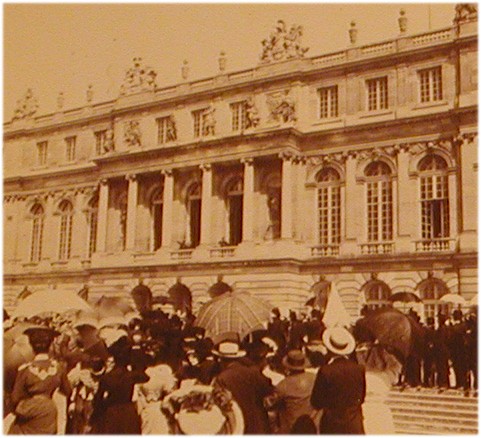 In conclusion
In a way it could  be argued, the commercialised rhythm, velocity and repetitiveness with which the tourist locations are flooded, provide new opportunities to convey clear and present images on current countries, current culture and local life- as an answer to "master narratives" and somewhat colonial ways of looking at other countries and cultures.  Were it not that commercial travel highly manipulates our view and perception of places. Grasping- in essence -to that what communicates culture in a way nothing else can: through souvenirs and objects, carried and annotated by you!
Follow Renk van Oyen's board objects and souvenirs on Pinterest.


See also:
Ruimtes en het alledaagse ding, deel 1 (Dutch)
Ruimtes en het alledaagse ding, deel 2 (Dutch)
Narratives of travel (English)
Leren kijken naar een ding, deel 1 (Dutch)